Note:
This page will be updated once by the end of each day from late August to late October, which is the usual Foliage season here in Maine.
Current Foliage Conditions (Updated 10/25/18)

(
The 2018 Foliage Season Is Now Over! See you in 2019!
)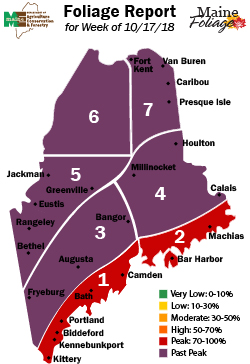 Fall Images Around Western Maine

Area Foliage Information...



The fall foliage season in Maine begins during the first week of September. Color begins to make its first true appearance in far Northern Maine and in the Western Maine Mountains during that time, and gradually sinks southward with each passing day. Peak foliage for the majority of the state occurs between the last week of September through the second week of October.
Peak foliage here in Northern Androscoggin County (West-Central part of Zone 3 on map above exactly midway between Augusta and Bethel) normally occurs between the 5th and 15th of October. The map above will continually update each week as Forest and Park rangers and the state Forest Pathologists on the Maine.gov website continue to update it. Follow the link below on the Current Maine Foliage button I have created to view their full page in more detail, or follow the other link I have created below for The Foliage Network's webpage.